Cheated by life, She lies in a coma
Wednesday, March 17,2004The Times of India, Bangalore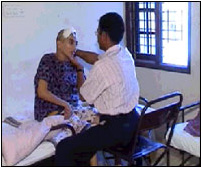 She lies in a hospital unaware of what is happening around her. Not even that her husband collected money for her treatment, Which did not reach her. Nor is she aware that he is seeking a divorce.
When software consultant from the US, Arun J. Rao, proposed marriage to Dr. Gayatri Bhasker, everyone in her family was excited. The 27-year-old dentist was running her own practice in Bangalore and was visiting faculty at M.S.Ramaiah Medical College, her alma mater, where she secured third rank and highest marks in Periodontics.
To Gayatri, the US meant pursuing higher studies. But barely eight months after tying the knot in February 2003 and flying overseas, her bubble of happiness burst.
Walking on the pedestrian crossing while returning from college in Miami, Gayatri was knocked down by a speeding car. The impact threw her up and she crashed to the ground. Airlifted to the university of Miami School off Medicine, she underwent a series of operations on her abdomen and brain. Her husband shifted her to India for "long term care" amidst family members.
Since then, for six months, she has been in coma. Gayatri's parents, retired BHEL and LIC employees, were shocked to see their only daughter in such a state.
On January 23, Gayatri was shifted to NIMHANS; in February, to a private nursing home for treatment, including physiotherapy.
Gayatri is now showing signs of recovery she has opened her eyes, begun to yawn and also making noises while coughing. The aged parents are overwhelmed with joy, but still lost; they have exhausted all their funds.
As per correspondence between Gayatri's parents and well-wishers in the US, Gayatri's husband created a mail account, This email address is being protected from spambots. You need JavaScript enabled to view it., through which he collected a whopping $100,000 for her treatment. The mail account is now closed. "The money has not reached our daughter. All expenses are borne by us. We made frantic attempts to trace our son-in-law but in vain, " says the father.
But that is not all. Last week, Gayatri's husband send mail to her father expressing his wish to seek a divorce. "My son-in-law she made his intentions clear. I want him to send us the helpline funds to further Gayatri's treatment. So, I am forced to seek legal help."
Gayatri will soon be shifted to Asha Jeevan on Bannerghatta Road.
To help Gayatri, call - 56900752.