Caring for the Aged and infirm
April 12, 2008 Times of India, Bangalore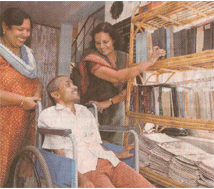 She tries to hold the newspaper with trembling hands. Though she can't walk, she refuses to use a wheelchair, Radha Rao (82) suffers from Parkinson's, but neither age nor disease has dampened her spirits; she's still looking for a bridge partner.
"My ex-husband works at the airport and visits me every Sunday. We've employed someone to cook for him and my former mother-in-law is very good", says cheerful Mrs. Susheelamma, the 67 year old divorcee suffers from schizophrenia.
Another muscular dystrophy patient 32-year-old Rekha Bhatt, says, " I didn't want to be a burden on my family. Since I'm bed-ridden and need constant care, I've been at the Asha Jeevan care centre for the past seven years."
In old age, when bones go weak and people are bed-ridden because of fractures, they look for caring hands. Asha Jeevan, a home and care-giving centre at Gottigere on Bannerghatta Road cares for those who need assistance whether old or young.
The 9-year-old centre has 97 residents from across the country. "We started as a home for the aged but soon realized there are 89 old-age homes in the city. Among the elderly, those who are bed-ridden and suffer from dementia or Alzheimer's require special care. So we started Asha Jeevan for such people.
We also have youngsters suffering from borderline mental disorders and disability,' says Sujatha R Bhat, Thirty-eight attendants assist the residents. Dr S Ashok Kumar, a general practitioner from Jayanagar who attends to the inmates regularly, says serving the inmates of Asha Jeevan gives him immense satisfaction. At the same time, it poses a challenge since aged residents have fluctuating health problems.
"We wanted to make our service practically useful by solving the core problems that the residents face," says Kalpana Mallya, co-founder of the trust.